AMBASSADORS
Below are a few of Bolt 4 Mental Trauma's Ambassadors that support our cause.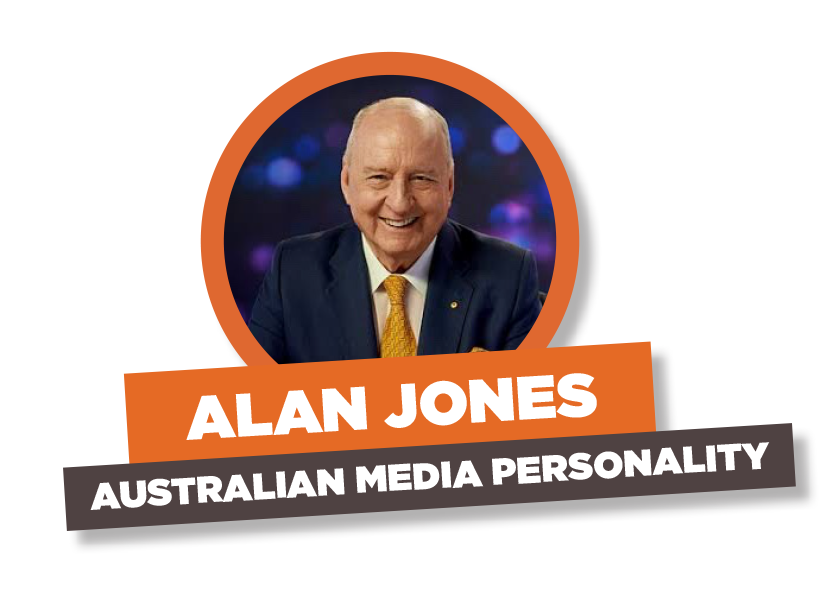 Alan Belford Jones AO is an Australian former radio broadcaster. He is a former coach of the Australia national rugby union team and rugby league coach and administrator. He has worked as a school teacher, a speech writer in the office of the Prime Minister Malcolm Fraser, and in musical theatre. He has a Bachelor of Arts from the University of... Queensland, and completed a one-year teaching diploma at Worcester College, Oxford. He has received civil and industry awards. Jones hosted a popular Sydney breakfast radio program, on radio station 2GB from 2002 until 2020. Jones advocates conservative views, and the popularity of his radio program has made him a highly paid and influential media personality in Australia. Despite his success, he remains a controversial figure. His on-air conduct has received adverse findings from Australia's media regulators, and he has frequently been sued for defamation. In May 2020, Jones announced his retirement from his role at 2GB.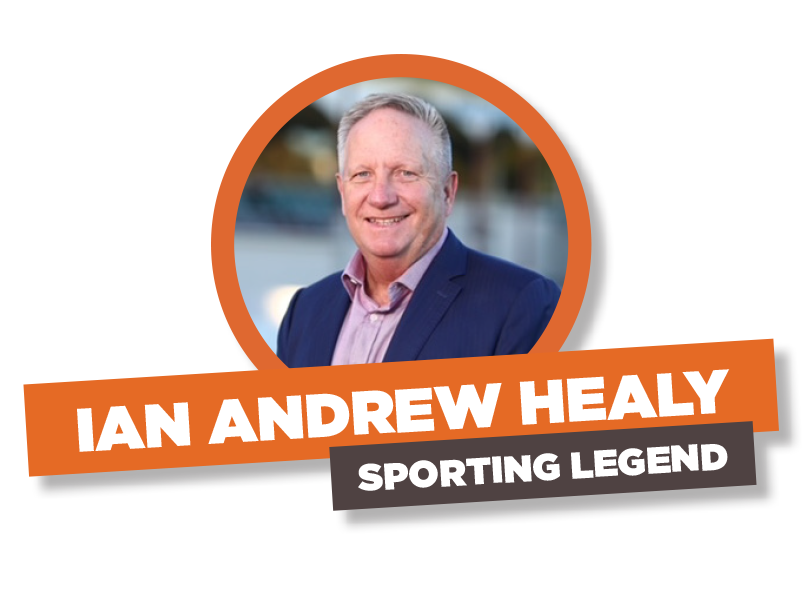 Ian Andrew Healy is an Australian former international cricketer A specialist wicketkeeper and useful right-hand middle-order batsman, he made an unheralded entry to international cricket in 1988, . His work ethic and combativeness was much needed by an Australian team. Healy held the world record for most Test dismissals by a wicket-keeper... Ian has been a long time support or Tony Dell and the work he does for PTSD and Mental Trauma.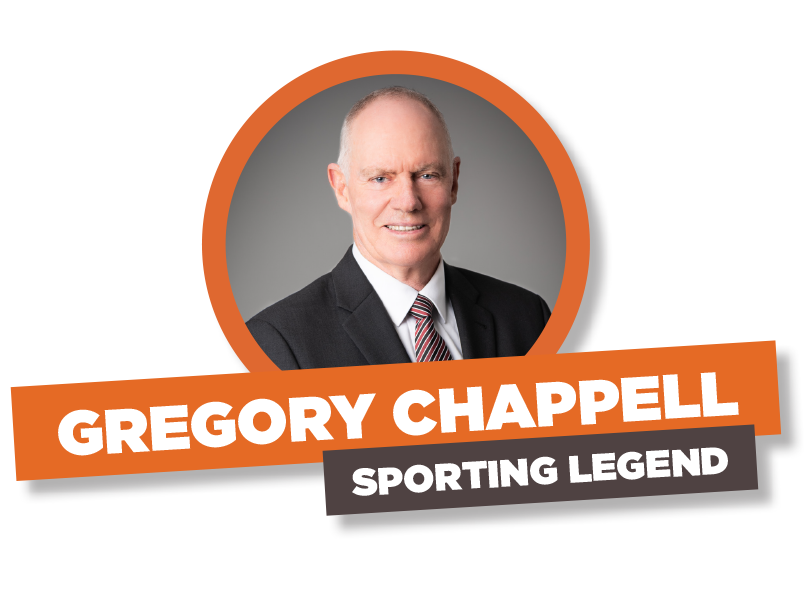 Gregory Chappell is a former cricketer who represented Australia at international level in both Tests and One-Day Internationals (ODI). Chappell was the pre-eminent Australian batsman of his time who allied elegant stroke making to fierce concentration. An exceptional all round player who bowled medium pace and, at his retirement, held... the world record for the most catches in Test cricket. Greg has been a supporter of Stand Tall and Tony Dell for over 40 year.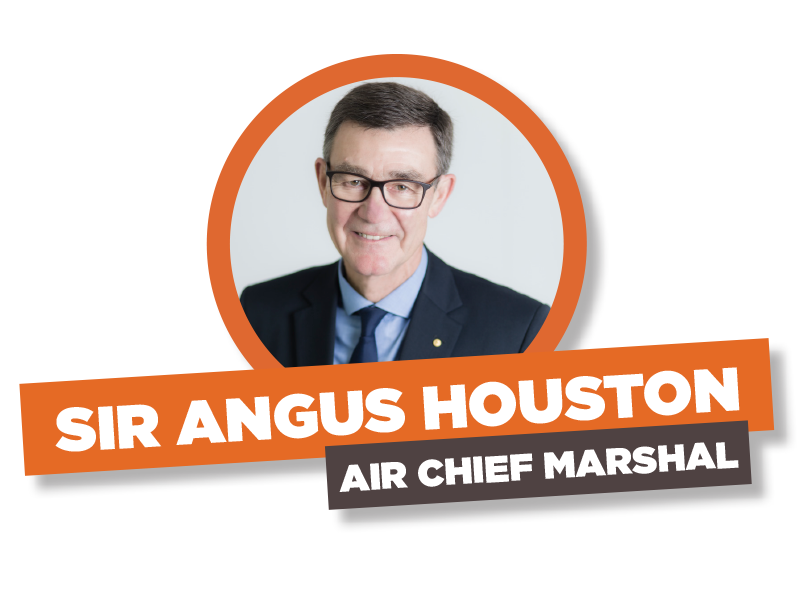 Air Chief Marshal Sir Angus Houston AK, AFC (Ret? was awarded the Knight of the Order of Australia in January 2015 for extraordinary and pre-eminent achievement and merit in service to Australia, through distinguished service in the Australian Defence Force, continued commitment to serve the nation in leadership roles, particularly... the national responses to the MH370 and MH17 disasters, and in a variety of roles in the community. Sir Angus retired from the military in July 2011 after serving for 41 years. He was Chief of the Australian Defence Force from 2005-2011 and prior to that was Chief of Air Force for four years. Sir Angus is Chancellor for the University of the Sunshine Coast, Chair of the Murray Darling Basin Authority and Chairs several other boards. He also serves as a board member for numerous organisations as well as being a visiting fellow of the Australian National University National Security College. In addition, he is the Ambassador/Patron for a number of charitable organisations, including several mental health charities. Sir Angus has been awarded four honorary doctorate degrees from the University of South Australia, the Australian National University, the University of New South Wales and Griffith University.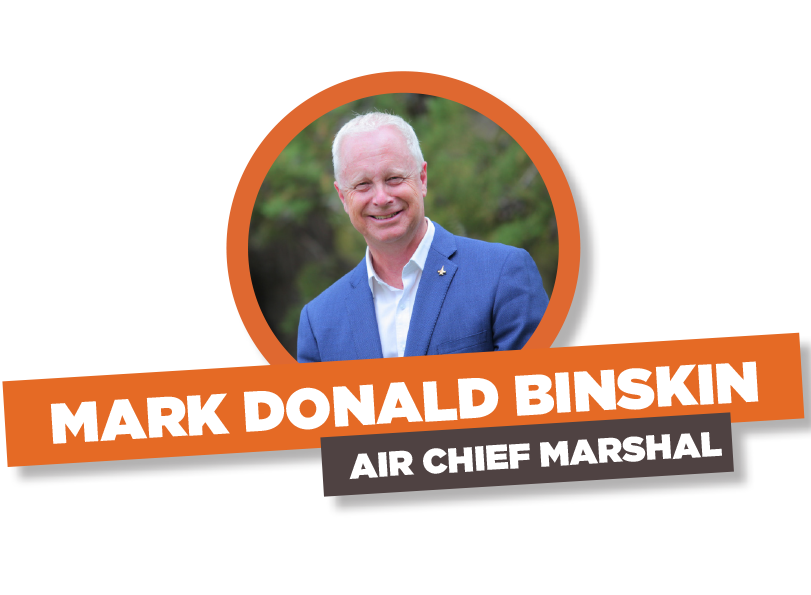 Air Chief Marshal Mark Donald Binskin, AC is a former senior officer in the Royal Australian Air Force. He served as Chief of Air Force (2008?), Vice Chief of the Defence Force (2011?), and Chief of the Defence Force from June 2014 until his retirement in July 2018. In February 2020 he was appointed as a Commissioner and Chairman of the Royal... Commission into National Natural Disaster Arrangements.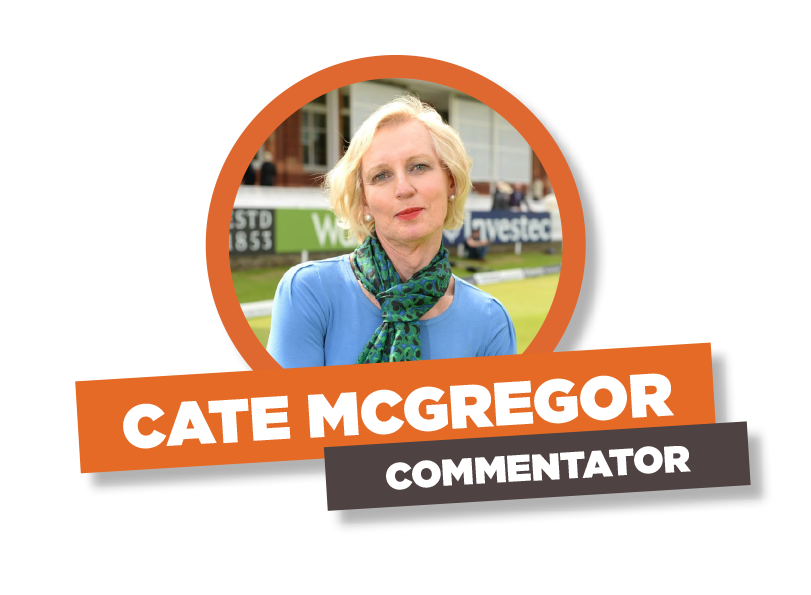 McGregor joined the Australian Army as an Officer Cadet at the Royal Military College Duntroon on 14 January 1974, where she spent the next four years, before graduating with a Bachelor of Arts (Honours) at the end of 1977. From From 2011 McGregor has been a cricket writer for The Spectator, a cricket commentator for The Australian, and... the Australian Financial Review, and the author of a book, An Indian Summer of Cricket, published on 24 November 2012. On Australia Day in 2012, then Lieutenant Colonel McGregor was appointed a Member of the Order of Australia in the Military Division for "exceptional service to the Australian Army as the Director of the Land Warfare Studies Centre". McGregor is a regular commentator on Sky News and in The Australian.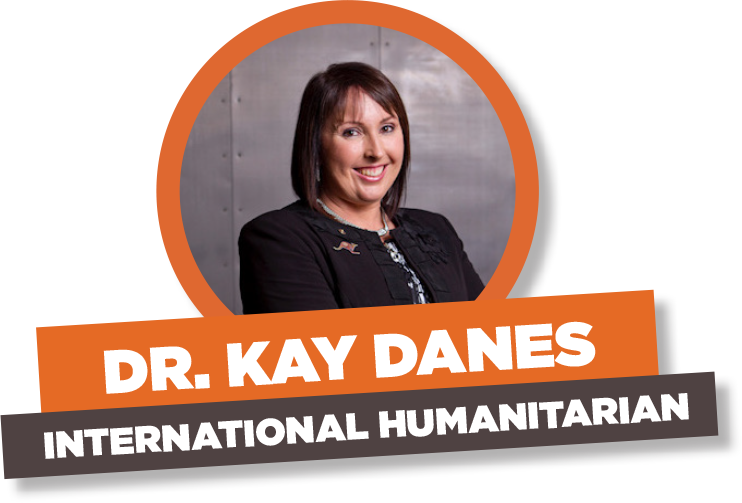 Dr Kay Danes is an international humanitarian with decades of experience living and working in the Middle-East. Her earliest humanitarian work in Afghanistan in particular, became an integral part of a national debate on Australia?commitment in Afghanistan. For her commitment to human rights and social justice, Kay was awarded the Medal of... the Order of Australia. Kay understands the challenges of managing Post Traumatic Stress and chronic depression having a personal experience of trauma. Kay and her husband Kerry, were once held hostage in a communist prison and endured varying forms of mental and physical torture, and were forced to witness the torture of others. For many years after, Kay suffered the debilitating effects of trauma until she was able to learn resilience strategies to regain good mental and physical health. Her work in this area has led her to present at special sessions at several US Congressional forums and at numerous Conferences on world affairs. Kay has also worked with varying Defence Organisations as a consultant. Her engagement in Conduct After Capture Training led to the development of an in-house training program (Hostage?rvive with Dignity), designed specifically for Australian Defence Force personnel deploying on operations in armed conflict.

Kay is the very proud spouse of a 42-year ADF Veteran, Warrant Officer Kerry Danes, CSM (Conspicuous Service Medal) who served 42 years with distinction as a member of the Special Air Service Regiment and Special Operations Command.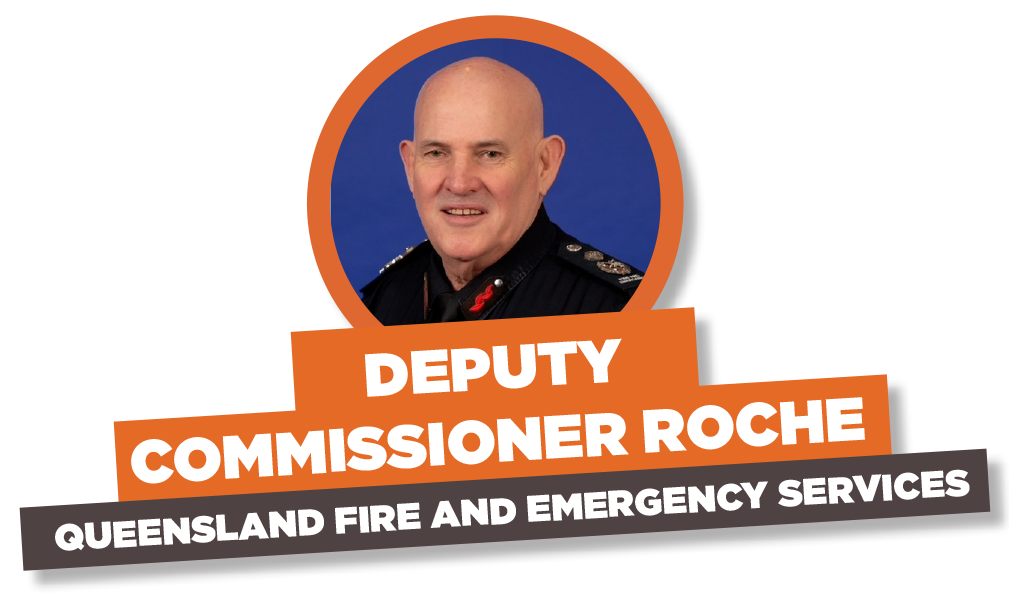 Mark is currently Deputy Commissioner, Readiness and Response Services (RRS) with the Queensland Fire and Emergency Services (QFES). Mark commenced his career in Ipswich as an Auxiliary Firefighter in 1979 before joining the permanent Firefighter ranks in 1980. In 2006 he was appointed to Assistant Commissioner Far Northern Region (located in Cairns)... where the importance of maintaining quality road rescue skills was well enshrined. In 2008, Mark moved back to Brisbane where he was appointed to the state role of Assistant Commissioner, Community Safety and Training. Mark has a Post Graduate Certificate in Applied Management AIPM, a Diploma in Frontline Management Initiative (FMI), and in 2014 he was awarded the Australian Fire Service Medal (AFSM). Mark has seen the fire service roles change from an internal focus responding to grass fires, structural fires and limited Road Crash Rescues (RCR), to what is now a multi-agency approach to incident management with significant advancements in RCR. Mark is the QFES state sponsor for RCR and during his career he has witnessed the advancements in vehicle safety and design, the quality of training we deliver to our staff on new techniques, the improvements in equipment, the professional advice we provide and the important relationships we have built with our partner agencies.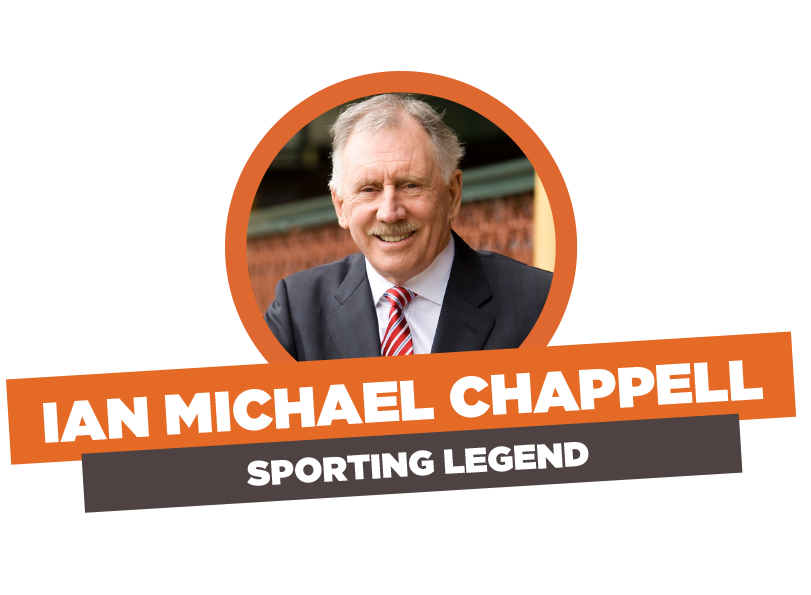 Ian Michael Chappell (born 26 September 1943) is a former cricketer who played for South Australia and Australia. He captained Australia between 1971 and 1975 before taking a central role in the breakaway World Series Cricket organisation. Known as "Chappelli", he earned a reputation as one of the greatest captains the game has seen.
Since his retirement in 1980, he has pursued a high-profile career as a sports journalist and cricket commentator, predominantly with Channel Nine. He remains a key figure in Australian cricket: in 2006, Shane Warne called Chappell the biggest influence on his career. Chappell was inducted into the Sport Australia Hall of Fame in 1986, the FICA Cricket Hall of Fame in 2000 and the Australian Cricket Hall of Fame in 2003. On 9 July 2009, Ian Chappell was inducted into the ICC Cricket Hall of Fame.